Dear New York City Beauty Salon Owner,
Would you like to start a 1-month free trial of the globally patented and FDA certified revolutionary Thales Micro-bubble Hair Wash System?
Thales' Hair Wash System is entirely different from the general and conventional hair wash system with shampoo to rub the scalp and hair.
Thales new technology has made it possible to remove sebum, fatty acid, and residual diamines, hydrogen peroxide in hair dye and residual shampoo just by pouring microbubbles water with special enzyme for just about ten minutes without rubbing the scalp and hair, resulting in odor free, original shining and beautiful hair.
In Japan, there are many customer reviews that show positive results such as the improvement of thinning hair, hair growth and hair restoration.
Why not add Thales Micro-bubble Hair Wash System to your Salon menu?
Details of the 1-month free trial
(1) Period / Usage fee:
| | |
| --- | --- |
| ・ | You can use the system for free for 1-months. |
(2) Rental system includes:
| | |
| --- | --- |
| ・ | We will lend the whole set of beauty cleansing equipment manufactured in the United States by Thales. |
| ・ | You can get the special enzymes for free, which is essential when using this system. |
(3) Delivery of rental system:
| | |
| --- | --- |
| ・ | Our staff will transport, deliver and install the system to the location of use. |
| ・ | After installation, we will explain how to use it based on the instruction manual on the site. |
(4) Obligation of the user:
・
The user should use the system based on the instruction manual with the due care as good management. In case of loss or damage of the system, the user will be charged the actual cost, such as repair cost.
・
Please provide us with photos and videos on the spot of operation and a record of performance of the system. When taking photos and videos, please obtain permission to post them on our website from all the parties appeared in them. (If not permitted, we will process the pictures to blur out faces, etc., so that individuals cannot be identified.)
If you do not provide us with any photos or videos for more than two weeks after the equipment has been installed, we may immediately recall the rental equipment.
(5) User benefits:
| | |
| --- | --- |
| ・ | The user can receive the treatment fee from the customers even during the free trial period, and the user can take all the proceeds as your company's revenue. |
Applicants for the 1-month free trial are limited only to hair salons in New York City.
Additionally, numbers of the system for free trials are limited,
so please contact us as soon as possible.
---
Good news for dreadlocks!
Thales MBSC will start selling the world's patented dreads washing system in the United States from this summer!
You can solve typical troubles of dreadlocks;
No more spending hours rinsing off shampoo, drying your entire head, and resetting your dreads!
No more worries such as smell and itchiness from unwashed dreads!
The Thales Microbubble Wash System can wash your dreads without unwinding.
It can also remove sebum and the hair dye chemicals from your hair, scalp,
and roots by just pouring microbubble unique enzyme water over your head.
Eventually, it eliminates odors and itchiness and restores original beautiful hair!
For Hair Salon owners, why not add Thales MBSC to your new menu?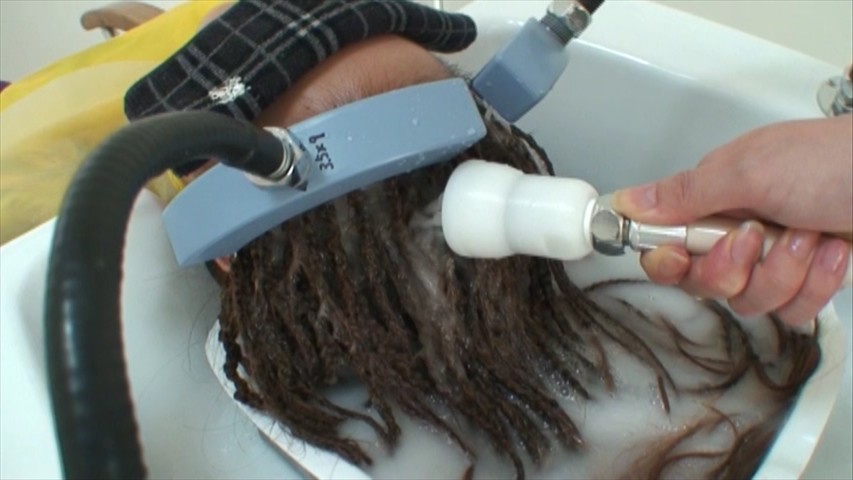 For Hair Salon owners, why not add Thales MBSC to your new menu?